Updating a job task/deadline
1 Select a task deadline from the list, then click the Update Deadline button.

The Update Task Deadline window opens, displaying the task, deadline date and time, traffic assignment, task phase, and special instructions.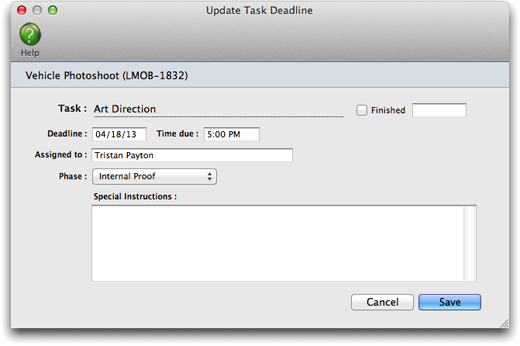 The task cannot be edited, but you can edit the deadline date, time due, change the assignment to a different staffer, change the phase the task is in, and include special instructions.

Once a task is marked as finished, it won't appear on the Weekly Task Planner, the Work To Do window, or traffic reports.

2 Make your changes.

3 Click Save.
How to find specific deadlines
Use the "Show tasks by" drop-down menu to show deadlines by deadline, start date, or to show tasks that are unfinished and overdue.

Select a date range, then select who you would like to show deadlines for - staff member, client, AE/Team, or task. To search for a specific staffer, client, AE/Team, or task, enter it here. Or leave the field set to ALL and click the magnifying glass icon.

All deadlines based on your search parameters will appear in the list.

You can filter deadlines by specific staff members, or show all deadlines for all staff members by leaving the "Filter by staffer" drop-down menu set to ALL. You can also filter by tasks that have been unassigned.